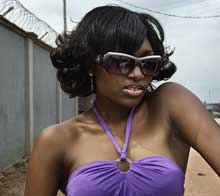 By Abimbola Adelakun
Whether East or West, the Nollywood phenomenon has been attracting a lot of interest, especially due to the number of films that the industry has been releasing. As it grows older, the phenomenon seems to be stagnating, that is going by the number of film releases.
But some of these seem to enjoy a bright moment. One of the acclaimed Nigerian films, The Figurine, made about $10,000 when it premiered in cinemas. Not a mean feat as it was one of the first Nigerian films to return this kind of box office figures from local cinemas. The other film that got that close was Through the Glass, produced and directed by actress Stephanie Okereke. Through the Glass made N10m at the cinemas.
That was big because industry figures and voices indicate that most Nigerian films do not command the following that Hollywood and Indian films do in cinemas, even in their own country. Nigerian films, according to cinema owners, are substandard and do not appeal to the largely elite audience that patronise the surviving Nigerian cinemas.
Whether in Lagos or other smaller town, most of the cinema buildings that used to thrive in the 70s have become churches; others are offering other commercial services. Cinema culture seems to have gone with the Structural Adjustment Programme years of economic hardship for Nigerian businesses. Since then, the alternative has been the home video: 120 - 480 minutes of largely low budget films screened at home on small video machines. The home video films had the highest boom in its earliest days with films like Out of Bounds and Glamour Girls 1&2. Some reports indicated that the films sold in excess of a million – years before the pirates moved in to take advantage of the poor distribution network.
UNESCO Rating
Nigeria's movie industry, popularly called Nollywood, is not only listed as the second largest in the world, according to a Unesco rating, it is reputed to be worth $500m. But even with that reputation, the current fortunes of Nollywood are not as good. The industry is currently experiencing a downturn.
Over the years, the industry has been infiltrated by unscrupulous elements, mainly traders who turned executive film producers overnight. Interested in making quick and easy cash out of the boom, they violate every rule of filmmaking, churning out film regularly without any artistic merit. The turnover of films from Nollywood stable thus rose astronomically and without any internal supporting structures, it might have well crashed and the few professionals who are in the industry are not having it easy.
Film marketers are not too keen to disclose how many copies of their films they sell. "Once you sell 20,000 copies," says Razaq Abdullahi, one of the leading filmmakers in Yorrywood, an off shoot of Nollywood that caters for the Yoruba films, "you have made your money."
Another leading filmmaker Vivian Ejike, confessed that sometimes, pushing 20, 000 copies often takes up to six months of intense marketing.
Investing in Theatres
Sometimes, light does shine in the horizon in Nollywood. For instance, Yoruba film, Jenifa, sold the highest number of copies in Nollywood in 2008. The producer and lead actress Funke Akindele, claimed the film sold about 500,000 legal copies; the rest were sold by pirates. This figure was, however, contested in some quarters as an exaggeration. Another film, Silent Scandals, scripted and produced by Ejike, is one of the Nollywood's bestsellers. It was released in October 2009.
"In three weeks, I recouped my investment and since then, we have been selling an average of 140,000 copies every month."
Not all filmmakers are as lucky as Ejike. For another popular director/producer, Lancelot Oduwa Imasuen, who is premiering his new film, Home in Exile, the safest option is to make some cash from the cinemas before entering onto VCD/DVDs market. This is to corner pirates and the lack of viable distribution structure.
"Who says we cannot make films of international acclaim? I am now ready to invest a N100m in a film and I am sure to recoup the investment," says Imasuen. "Some years ago, if you offered me N20m to make a film, I would not have taken because there was no way to recoup that back. Now, with the cinemas and the Nigerian population, we can get the investment back if only people come into the cinemas," said Imasuen.
At the moment, Nigeria has four cinema houses in Lagos – the most populated city in Nigeria with an official population 10 million people. The four cinemas are located in high brow areas and cinemagoers from other parts of Lagos rarely access them.
But that is no reason for some of the film producers in Nigeria. The Managing Director of Genesis Deluxe Cinemas, Kene Mkparu quit his job as the General Manager of Odeon Cinemas in the UK to start up film business in Nigeria. He says he wants to help the local film industry grow by screening as many Nigerian films as possible, but admits that films have to pass the quality test before securing space at the Cinemas.
Originally appeared in Africa Review.