Page 6 of 7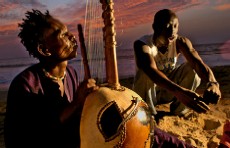 Assane N'Diaye, 19, loves hip-hop music. Before he left his Senegalese village to work as a DJ in Dakar, he was a fisherman, just like his father, like his father's father before him. Tall, lean, with a muscular build and a handsome chocolate face, Assane became a popular DJ, but the equipment he used was borrowed, and when his friend took it back, success eluded him. He has returned home to Toubab Dialaw, about 25 miles (40 kilometers) south of Dakar, a village marked by a huge boulder, perhaps 40 feet (12 meters) high, facing the Atlantic Ocean.

About a century and a half ago, a local ruler led a group of people fleeing slave traders to this place. He was told by a white trader to come here, to Toubab Dialaw. When he arrived, the slavers followed. A battle ensued. The ruler fought bravely but was killed. The villagers buried him by the sea and marked his grave with a small stone, and over the years it is said to have sprouted like a tree planted by God. It became a huge, arching boulder that stares out to sea, protecting the village behind it. When the fishermen went deep out to sea, the boulder was like a lighthouse that marked the way home. The Great Rock of Toubab Dialaw is said to hold a magic spirit, a spirit that Assane N'Diaye believes in.

In the shadow of the Great Rock, Assane has built a small restaurant, Chez Las, decorated with hundreds of seashells. It is where he lives his hip-hop dream. At night, he and his brother and cousin stand by the Great Rock and face the sea. They meditate. They pray. Then they write rap lyrics that are worlds away from the bling-bling culture of today's commercial hip-hoppers. They write about their lives as village fishermen, the scarcity of catch forcing them to fish in deeper and deeper waters, the hardship of fishing for 8, 10, 14 days at a time in an open pirogue in rainy season, the high fee they pay to rent the boat, and the paltry price their catches fetch on the market. They write about the humiliation of poverty, watching their town sprout up around them with rich Dakarians and richer French. And they write about the relatives who leave in the morning and never return, surrendered to the sea, sharks, and God.

The dream, of course, is to make a record. They have their own demo, their own logo, and their own name, Salam T. D. (for Toubab Dialaw). But rap music represents a deeper dream: a better life. "We want money to help our parents," Assane says over dinner. "We watch our mothers boil water to cook and have nothing to put in the pot."

He fingers his food lightly. "Rap doesn't belong to American culture," he says. "It belongs here. It has always existed here, because of our pain and our hardships and our suffering."

On this cool evening in a restaurant above their village, these young men, clad in baseball caps and T-shirts, appear no different from their African-American counterparts, with one exception. After a dinner of chicken and rice, Assane says something in Wolof to the others. Silently and without ceremony, they take every bit of the leftover dinner the half-eaten bread, rice, pieces of chicken, the chicken bones and dump them into a plastic bag to give to the children in the village. They silently rise from the table and proceed outside. The last I see of them, their regal figures are outlined in the dim light of the doorway, heading out to the darkened village, holding on to that bag as though it held money.