Toni Blackman is an explosive rap lyricist, vocalist and writer who is considered a pioneer in hip-hop theater. A founder of Freestyle Union, she is a former ambassador of Hip-Hop from the State Department to Senegal and Ghana. She has been featured in Vibe and Essence magazine and also appeared on CSPAN. Blackman infuses and molds grassroot activism, politics and culture in her work. In a sea of lack-luster and fading artists, she is a musical gem that continues to elevate all to a higher conscious level.
The Musical Gem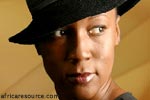 A rap lyricist, vocalist and writer, Blackman is the founder and director of Freestyle Union, recently listed in VIBE Magazine's Droppin' Dime column as #2 on the Hot List. Founded in Washington, DC, this is now a Brooklyn-based organization for hip hop artists and rappers, whose works earned Blackman a fellowship with the Echoing Green Foundation, a Washington Area Music Award and an invitation to the White House Millenium Celebration with Bill and Hillary Clinton. Blackman's steadfast work and commitment inspired the U.S. State Department to bestow upon her the title of Cultural Specialist and Hip Hop Ambassador to Senegal and Ghana where she lectured, performed and taught master classes this past February. Toni is an on-air presenter for BASSIQ, the hottest new music television show on the SABC network (South African Broadcast Company). Considered to be one of the pioneers of Hip hop theater, Blackman recently presented a new work at Danny Hoch's Hip Hop Theater Festival in New York and co-authored the acclaimed "Hip Hop Nightmares of Jujube Brown", featured at the National Black Theater Festival and in American Theater Magazine.
Blackman has performed extensively, having been a featured poet at the DODGE Foundation's prestigious Poetry Festival, billed alongside Chinua Achebe, Gwendolyn Brooks, and Sekou Sundiata. Last year, Blackman served as a King-Chavez-Parks Visiting Professor at the University of Michigan and led the MC workshop at the institutions first-ever scholarly hip hop conference. This multi-talented individual has been listed in ESSENCE Magazine's 2000 listing of "30 Women to Watch", been featured in SAVOY Magazine, Newsweek (Japan) and a major article in the New York Times.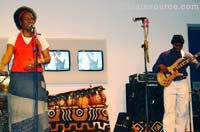 A Lilith Fair Talent search winner, Blackman and her band have opened for the Roots, Wu Tang Clan, Boot Camp Clic, Bahamadia and even Ricki Lee Jones and Regina Belle. Blackman was also winner of the Capitol Records Girls Room Tour Search and featured at the ROXY in Hollywood last August. She is currently in the studio with Lee Stone (Pharoah Monche-Rawkus/Ronny Jordan-Blue Note), and recently recorded a poem for jazz great Mino Cinelu's new album (Universal U.S.). She is featured on five tracks for 'Lost Riddims', dropping in November on Universal Records France and produced by Shay Mane (who has worked with Les Nubians and Black Eyed Peas). Toni has also appeared on several spoken word albums and featured on the BMG/Novus Europe release of Opus Akoben's 'Art of War' (Steve Coleman).
Well-traveled, Blackman was featured at the CentreStage-London Black Arts Festival where she presented with Kevin Powell, performed in Paris this Spring and will be featured in Amsterdam and in Chicago this September and in London again this year. She has been supported by Arts International, the Africa Exchange Foundation and the 651 Arts Foundation for her work in South Africa and with other African artists. Last winter she traveled to Angola, as well.
She has been published in Fast Talk, Full Volume (edited by Alan Spears on Gut Punch Press), 360 (edited by Kwame Alexander and Kalamu Ya Salaam), the Hip Hop Journal Doula, and the upcoming anthology, Role Call, edited by Jiton Davis and Tony Medina.
NHK-Global Japan Television produced a full-length documentary on Toni Blackman and her work with hip-hop. The film recently aired to 11 million viewers on national TV in Japan. She has been featured on BET's RapCity, By the Book, and in a BET promotion, as well as, on FOX News and VH1. Look for Toni in the July/August issue of BOOK Magazine.
This California native of the Bay Area, earned a B.A. and M.A. from Howard University's School of Communications and is studying French this summer. With only more great things to come, Blackman is putting the finishing touches on her first book expected to be released this year.