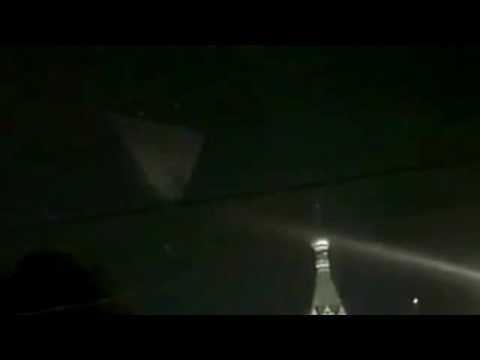 A strange flying object was spotted in the sky above the capital of Russia, Moscow today, December 18, 2009.
Hundreds of residents saw a large triangle-shaped object hovering above Red Square. Many people filmed the object on their cell phones and uploaded the videos on YouTube.
The object, about 1.5 kilometers wide, looked like the imperial cruiser from the Star Wars. Western Analyst declared it a UFO.
This is the third ioncident with a month where unexplained celestial events have created anxiety for Northern Europeans. Almost a month ago, the same Moscow was visited by an weird looking UFO cloud that some tried to explain away as some meteorological events.
Then, last week the world witnessed a blue spiral like some time travel gateway spinning in the night skies over Norway. Again it was explained away as the effects of a failed Russian missile test.
Today with what has occurred in Russian, it is time people take a pause and ask what is up? It appears the prophesies are tumbling down pon them…
Rasta Livewire will keep you posted.
Oguejiofo Annu
Rasta Livewire