Memorials
NAIROBI, Kenya, Sep 26 – 2004 Nobel Peace prize winner and environmentalist Wangari Maathai has died while undergoing treatment at the Nairobi Hospital.
Prof Maathai succumbed to ovarian cancer at 11pm on Sunday night, just over a year since she was diagnosed with cancer, in July 2010.
The 71-year-old political activist is well known for her constant battles with government to protect Kenya's forests.
Information reaching Myjoyonline.com Wednesday say the renowned playwright, who is also Director of the National Theatre, died in the early hours of Wednesday at the Korle-Bu Teaching Hospital where he had been on admission for some weeks.
The late Mawugbe was being treated for prostate cancer and paralysis, a source close to the family told Myjoyonline.com.
Efo was renowned for his writing prowess in drama. He was winner of the BBC's International Radio Playwriting Competition 2009 with his play, The Prison Graduates. His play was selected out of 12,000 entries across the world.
By Ozolua Uhakheme, Assistant Editor (Arts) for The Nation.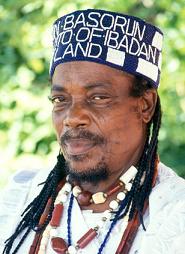 Born: 1944 in Ogidi, Nigeria.
Died: June 2011 (age 67)
Real Name: Prince Taiwo Olaniyi Oyewale-Toyeje Oyelale Osuntoki
A multidimensional artist, singer, musician, actor, writer and poet, Twins Seven-Seven, one of the greatest artists of the Osogbo School, has died at aged 67. He passed on yesterday at  the University College Hospital, Ibadan, where he had been on admission following a stroke.
The artist, real name Olaniyi Osuntoki was one of the most famous products of Ulli Beier's experimental art workshops, held in Osogbo in the 1960s.
Professor Ekpo Eyo
Born 1931; Passed 2011
Professor Ekpo Okpo, OFR, PhD, eminent archaeologist, anthropologist, passed away on the evening of Saturday, 28 May 2011, in Maryland, USA.  Professor Eyo was 80 years old. He is survived by, his wife Augusta, two sons, daughters-in-law, and grandchildren.
By Christine Kreamer
June 1, 2011
A great tree has fallen. The family of Ekpo Eyo, emiment archaeologist, professor and museologist, requested that colleagues be informed of his passing.  Professor Eyo was awarded ACASA's leadership award in 2004.  Emails of condolences to his wife Augusta, his son, Etim, and daughter-in-law Medupe, can be posted on the site and I will forward them to the family.  His funeral service is still being planned.
By Ebekuo
The 'Adunni Olorisa' has passed! The white priestess of Osun River Grove deity in Nigeria, is dead. Susan Wenger was 94 years old!