Personalities and Profiles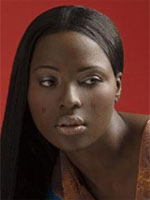 It was on a Valentine´s day that  Layori  discovered her love  –  her love for great performances.
She stood on the stage of the "Mayflower School"-auditorium in her domestic Nigeria to sing for three thousand of her fellow students and their relatives.
"It was just overwhelming. It felt totally natural for me to stand up there on stage und perform."She had trained her voice from her early childhood on, but she found out in that very moment that music would play the leading role in her life from now on.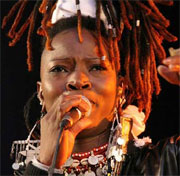 Dobet Gnahoré, a singer, dancer and percussionist from the Ivory Coast, inherited the force of the "Bété" tradition from her father, Boni Gnahoré, a master percussionist who plays with the Abidjan-based Ki-Yi Mbock Company, directed by Werewere Liking.
It was within this Ivory Coast-based company that Dobet met French guitarist Colin Laroche de Féline, who went there to immerse himself in African melodies and rhythms, after being introduced to them by Toroma Sika in France.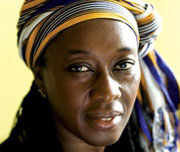 Yaba Badoe is a Ghanaian-British documentary filmmaker and writer.
A graduate of King's College Cambridge, she worked as a civil servant in Ghana before becoming a General Trainee with the BBC. She has taught in Spain and Jamaic, and was previously a Visiting Scholar at the Institute of African Studies at the University of Ghana. She has worked as a producer and director making documentaries for the main terrestrial channels in Britain and the University of Ghana in Accra.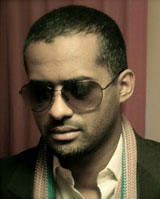 Nile is a Soul, Hip Hop and R&B singer/song writer and music producer based in the United Arab Emirates (UAE). Nile has brought fresh Hip Hop beats and the urban fusion of Neo-Soul and R&B to Dubai's local music scene. A diverse artist, Nile plays several musical instruments, such as the guitar, bass guitar and the keyboard. The acoustic guitar remains Nile's instrument of choice especially for live performances. Some of Nile's musical influences are artists such as Steve Wonder, Baby Face, Tupac, Mos Def, D'Angelo, and Maxwell.
Nile has written and produced over 40 songs. His single Lonely was played in Dubai's Radio One, as well as the singles Still in Love and Get With Me, which were also played on Sudan's 99.3 FM. He performed live at several music events in Dubai and Abu Dhabi. His music appeals to diverse groups of people of all ages.
Simphiwe Dana (born 1980) is a Xhosa pop singer in South Africa. With her unique combination of jazz, pop, and traditional music, she has been hailed as the "new Miriam Makeba".
In 2005, Simphiwe Dana won the "Best Newcomer" award at the 11th South African Music Awards with her first album "Zandisile". Two years later, she was named the "Best Female Artist", with the song "The One Love Movement on Bantu Biko Street", at the 13th South African Music Awards.
Lira - A biography

In a global music world brimming with solo female performers, Lira stands out as that rare thing: an artist who has been able to create a formidable career without compromising the very values that feed her creative soul.
This may not sound like much but cast around the current charts and it becomes clear that Lira's ability to retain a deep sense of integrity whilst selling Double Platinum and raking in the awards is not commonplace.
For this 30-year-old, it's a no brainer. "If something doesn't resonate with me, I won't do it," she says simply. "I have to really connect with the words that I am singing or the statements I am making or the clothes that I am wearing - or else I'd rather not be in this."