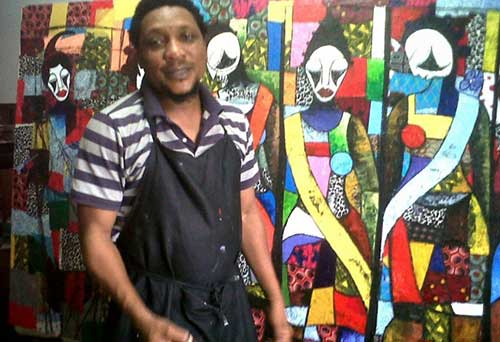 George Edozie in Studio
Reception at Museum of Contemporary Art, North Miami (MOCA)
December 2, 2014 from 7 – 9 PM
Both the artist and the curator of Shifting the Paradigm: The Art of George Edozie were born in Nigeria, however they each work internationally as cultural practitioners who question so-called "post-modern" theories about aesthetics.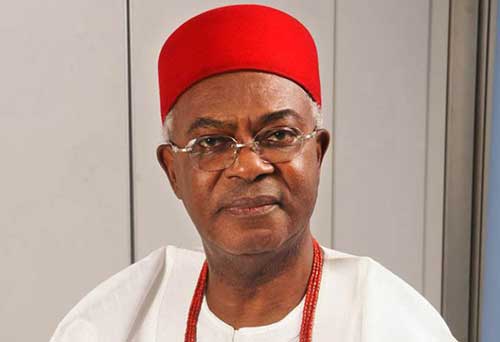 His Majesty, lgwe Nnaemeka Alfred Achebe, CFR, MNI, Obi of Onitsha
His Majesty, lgwe Nnaemeka Alfred Achebe, was born in Onitsha Nigeria in 1941. Onitsha is located in the state of Anambra in the Federal Republic of Nigeria. After earning his BA in Chemistry from Stanford and an MBA from Columbia, he enjoyed a 30-year career with the Shell Petroleum Development Company of Nigeria, where he was appointed to the board of directors and managed of the Eastern Division of the company which was responsible for the production of one-quarter of Nigeria's s oil output (500,000 barrels per day).
A motion art video collage on the financial crisis by Ebele Okoye, a Nigerian artist based in Germany. Created in 2008, the piece is based on the artist's personal response to the financial crisis, which also left its marks on her existence as a media designer.
A Note on The Pan-African Circle of Artists
The Pan-African Circle of Artists (PACA) was founded at the University of Nigeria, Nsukka, in 1991 by some young artists of Nigerian and Ghanaian origins. Part of the aim was to create a forum on which art and culture in Africa could be promoted and disseminated from inside by Africans and on Africa's terms.
Contemplating eastern concepts condenses and incorporates sceneries into an old iconic form; packed with sacred motifs and emblems constituting the work of art. This concept confirms the interactive and conversing narrative characteristic that takes numerous sensual, realistic and abstract geometric forms, swinging between the peripheral and inner dimensions of impressionist formation and art work structure. The interaction between plastic arts components incorporates the essential characteristics of expression, forming my simplification order based on insignia that combines narration with expression.